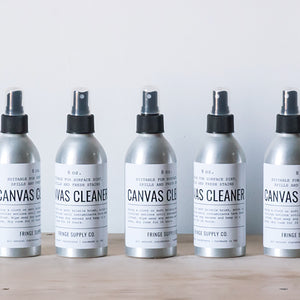 Canvas cleaner
Regular price
$9.00
$0.00
We don't recommend laundering any of our canvas bags, as it will shrink and alter the canvas, but we DO recommend our all-natural canvas cleaner for spot cleaning. I can't guarantee it will work on every possible stain, but we've used it (with a clean toothbrush) on bags stained by rain leaking through a 100-year-old industrial roof, and the stains came right out! Follow the simple instructions on the label, and if it doesn't appear to be immediately resolved, leave it out to dry overnight.
(Wax is no longer available.)
- handmade in USA
- all-natural ingredients
- 8 oz. spray bottle
NOTE: When using cleaner on any canvas product, please test a small area on the back or underside of the object first to be sure you'll like the outcome. In all cases, use at your own discretion and risk.
---
Share this Product